As part of the Ritz's June Fest along side a handful of other exciting one-acts, Plot Twist is a piece of completely interactive theatre! At the end of each scene, you, the audience, will get to choose what path our story takes next. Can you guide our hero to the love of his life – or something more important than that perhaps? Find out, in Plot Twist!
Get your tickets NOW for a night of One Acts at the Ritz Theater in Oaklyn for June 9th or 10th. There are ONLY 60 SEATS available, as it is done in a black box setting. Plot Twist is like nothing you ever saw before and nothing you will see again, even if you see it both nights, it will not be the same.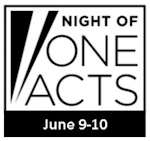 Location
The Ritz Theatre, Oaklyn NJ
Dates
Friday, June 9, 7:30pm
Saturday, June 10, 7:30pm
Tickets
https://secure.wcit.net/ritztheatreco/remote.list_shows.php
Share This!
Share it. Like it. Tweet It. Post it.