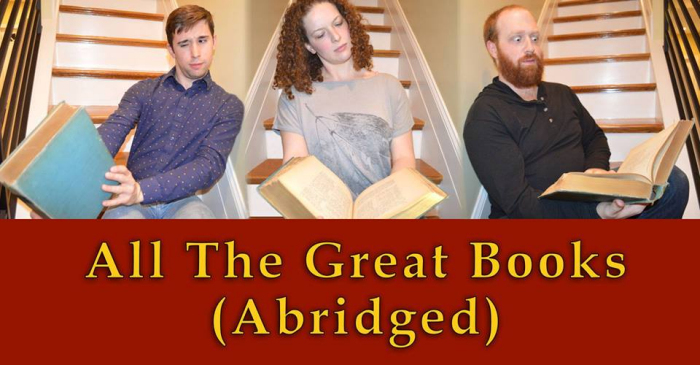 by
Reed Martin & Austin Tichenor
Additional Material by
Matthew Croke & Michael Faulkner
It's time to get your literature on! All the Great Books (Abridged) features the talented cast from Aftershock that brought you The Complete Works of Shakespeare (Abridged), but this time they'll be attempting what sounds to be truly impossible; performing nearly 100 of the greatest books ever written, all in an hour and forty five minutes! This hilarious production will be a hit with theatre goers and book lovers alike.
Performances:
Friday, February 8 – 7:30pm
Saturday, February 9 – 2:00 & 7:30pm
Cost:
Tickets are $15
Location:
Cherry Hill Performing Arts Center
1471 Brace Rd, Cherry Hill, NJ 08034
Cast
(in order of appearance)
Coach – Joshua Kurtz
Professor – Jake Hufner
Hannah – Hannah Hammel
Share This!
Share it. Like it. Tweet It. Post it.