WOW – we are honored to announce that Aftershock Entertainment will be part of the First Ever "Jersey Fringe Festival".   Of the 16 shows in The Fringe, two pieces in the Festival will be produced by Aftershock Entertainment – Josh's "Almost All my Heart" and  A.J. Dwayne's – "Yo Shortmann!!"
Almost All My Heart

Sam was not a hopeless romantic. Not until the day she met Lilah, and fell head over heels.
But their love story is not so simple – Lilah has a darker side to herself, in the form of a mysterious Devil named Eli, who owns her soul. As Lilah tries to balance her life and her love, Sam has to decide what she's willing to give to be with Lilah, and what she's willing to endure.
Will Sam and Lilah fight through the challenges and stay together? Or are there forces in this world stronger even than love?
Performances at The mART –  Friday @ 7pm and 11pm, Saturday @ 4pm and 10pm, and Sunday @ 2pm.

Yo Shortmann!!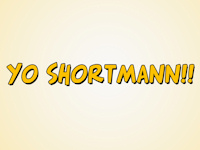 Amnesia grabs a hold of Shortmann after a fatal hit and run incident between himself and the Stoop Guy. Trying to piece his thoughts together, he runs into his friends dealing with the after effects. His best friend blames himself; his wife has shut herself off from the world; his other friends are too busy bickering with each other; and the town he lives in has been plagued with a drug epidemic. But the unpredictability of life allows Shortmann to persevere and uncover the truth. All because Stoop Guy left his stoop. Drug use, animosity, egotism, greed, love and death combines and explodes into an ending that challenges the meaning of human life.
"Time's always moving forward. It never looks back. And if we sit here wishing for things to be the way they were, we waste the valuable time we have to get where we need to be."
–Stink
Performances at The mART – Friday @ 9pm, Saturday @ 1pm and 7pm, Sunday @ 12pm and 4pm.
More about the Festival
All 16 shows take place from August 5 through 7th in downtown Hammonton, within walking distance from the Eagle Theater.  Please not only bring your friends to the Festival to support this great endeavor but make sure you see both of our pieces!
Your single or three day admission to The Fringe gets you admission to ALL 16 SHOWS plus a street faire.
More information is available at http://www.jerseyfringe.com/ 
This is a Jersey Fringe event.  Each Play is a production and property of their respective contributors.
Share This!
Share it. Like it. Tweet It. Post it.