The Last Moment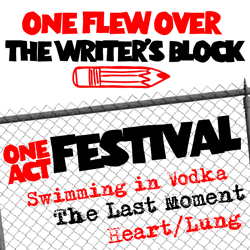 They say the moment before you die, your life flashes before your eyes. Nobody talks about how long this moment lasts. Now, one young woman with a score to settle gets to find out for herself.
Joshua Kurtz is pleased to offer this original One Act at the Woodbury Sketch Club as part of their One Act Festival.  This is Josh's first piece to be directed and produced by someone other than himself. 
Performances: June 24 & 25 at 8pm; June 26 at 2pm
http://www.sketchclubplayers.org/
This is a Sketch Club event.  Each One Act is a production and property of their respective contributors.
Share This!
Share it. Like it. Tweet It. Post it.