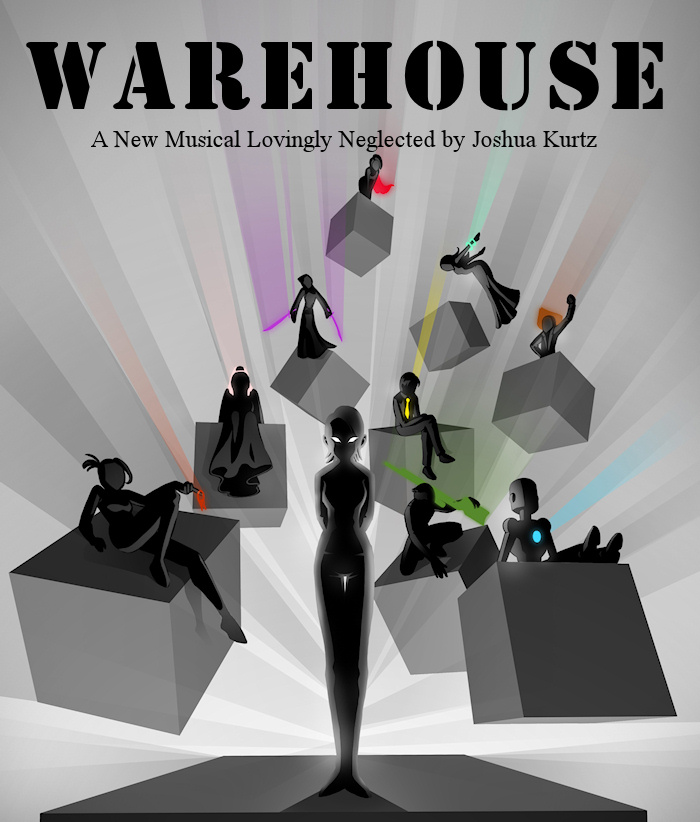 Warehouse is a brand new musical by Joshua Kurtz.
This one act musical explores topics such as hope, neglect, and the meaning of life. Each character in the show is from a different as-of-yet unwritten Joshua Kurtz musical, and together they are left to build and grow of their own accord, and share anecdotes from their home story, assuming they even get along in the first place. There's darkness, there's light, there's laughter- it's an emotional roller coaster of everything that goes on inside your head.
Because of some of the dark themes and mild language, this show is not recommended for young children.
From our Patrons:
Fantastic production. Wow!!!! So glad I saw it (3x). Was worth the 13 hr. bus ride both ways. I can't get the music out of my head. – Lynn A.
Warehouse is a clever play with song and dance , brilliantly written by Josh Kurtz who is on his way to fame. Characters are in a playwrights mind stored in a warehouse together and each competing for his worth and attention Each had his or her story to tell, Kudos to you Josh! We are proud of you keep on writing! – Joan B.
Enjoyed Joshua Kurtz's new production, "Warehouse". I definitely met some characters I hope to get to know better in the future. – Lori S.
This show needs to go to the Philly Fringe Festival – Keith T.
At Warehouse the Musical, I learned a few interesting things about Joshua Kurtz's mind, relived memories of TBAP, saw some highly entertaining performances by a lot of wonderful people, internally fangirled (ZOMG Jenn Adams' monologue), heard lovely singing voices, two of which I had never heard before, and got to at least mildly influence Josh's decision as to what the order of his next musicals will be. Pretty wonderful night. If you want a similar experience (which you definitely do), go see Warehouse the Musical tomorrow at the Wedgewood Country Club.  – Mike H.
Dates:
Friday, July 5th 7:30pm
Saturday, July 6th 2:00pm Matinee, & 7:30pm
with 5:30 Dinner option in the Evening.
** Dinner available at the door too! Please arrive promptly. **
Location:
Wedgwood Country Club, 200 Hurfville Road, Turnersville, NJ 08012
The Cast:
Her – Jenn Adams
Lily – Emily Krowicki
Alison – Kaya Colao
Attera – John de Groot
Bride to Be – Anastasia Culin
David – James Carman
Maxwell – Seumas Lowell
Lucas – Connor Sloan
Spike – Anthony Wojtkowiak
Murray – Liam McMonagle
Dinner Show Menu:
Salad
Tossed Garden Salad w/champagne vinaigrette dressing  *  Caesar Salad
Warm homemade bread and whipped butter included
Entrees
Chicken Francaise
Egg batter dipped chicken sautéed and
finished with a rich sundried tomato scampi sauce
Beef Roulade
Thinly sliced roasted top round of beef stuffed with Wedgwood's own
homemade bread stuffing and finished with a rich demi glaze
Baked Crab Cake
House signature – full of crabmeat and BAKED not fried.
Baked Salmon
Finished with a dill cream sauce
Pasta Primavera
Fresh garden vegetables tossed with penne noodles
in Wedgwood's homemade marinara sauce
Potato and Vegetable
Chef's design of potato and vegetable will accompany
all of the above entrees with the exception of the Pasta Primavera.
Dessert
Chocolate Chip Bread Pudding   *   Rice Pudding   *   Jell-o
Beverages
Coffee   *   Tea   *   Soda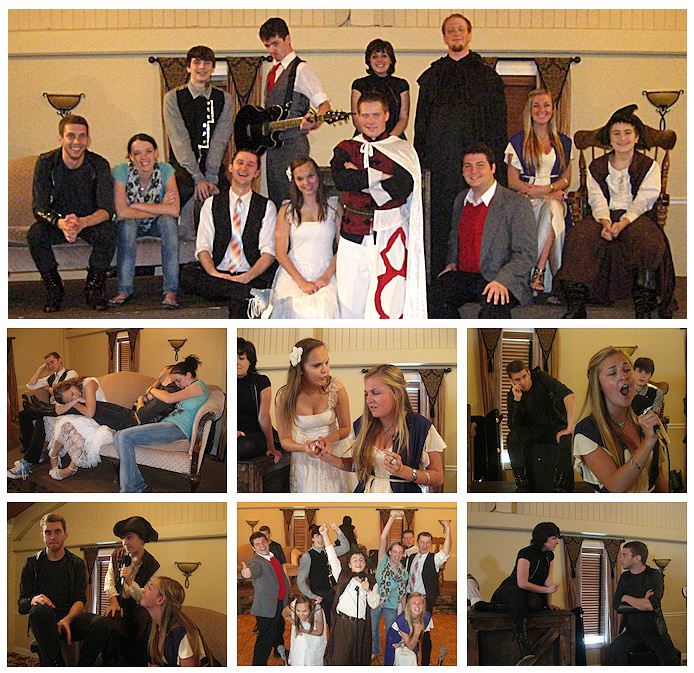 Share This!
Share it. Like it. Tweet It. Post it.