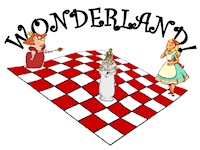 Wonderland! is a fun, magical adventure that takes us through the looking glass and beyond. When Alice starts to find herself frustrated with her every day life, she wishes that she could go to Wonderland, a place where everything is backwards- and soon gets her wish. Wonderland is one giant game of chess, during which she'll meet all sorts of crazy characters and fantastic friends on her journey to become a queen; Tweedle Dee and Tweedle Dum, A Lion and a Unicorn, A pair of Knights, even Humpty Dumpty, and so many more. Watch as Alice finds the purpose of Wonderland, and herself, all set to up-beat, rollicking music as she sings and dances her way through her magical adventure in Wonderland!
Wonderland! was performed Aug 19-21, 2011 at Haddonfield Plays and Players.
Location
Wonderland! Promo Video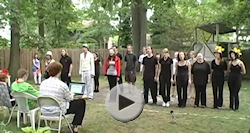 Peak behind the scenes with this promo video taken during rehearsal.
Reviews

More Information
Directed by
Joshua Kurtz
Music and Vocal Direction by
Damien Figueras
Choreography by
Hillary Kurtz
For more information,
contact Aftershock Entertainment via email or call 856-347-0825.
Share This!
Share it. Like it. Tweet It. Post it.